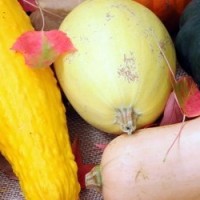 I love winter squash. I love everything about them. The way they look, the way they taste, how versatile they are. You can make them into soup; you can make them into pies. You can serve them on the sweet side OR the savory side. You can eat them as a whole meal or as a side. You can even use their rinds as a cute serving bowl. And winter squash are packed full of vitamins and minerals from vitamin A to magnesium.
My grocery store had a sale on local winter squash this weekend @ .69 cents/lb. So, I picked out one of each variety they had, a couple of which I wasn't sure what they were. I wanted to eat one right away so I looked up a winter squash chart on the internet to see what I had and how I could use it. One was a green Kabocha squash that I found a recipe for. It was Kabocha risotto with sage and pine nut. Wow. Just … wow.
I noticed while I was cooking a sweet dumpling squash with just a little maple syrup and spices that Truman kept sniffing at the oven door. So, when the squash was done, I carved out some middle pieces for him that didn't have any syrup or spices on them. He ate that squash like it was the best thing he's had in months. Yes, squash is safe for dogs to eat with lots of beta carotene and Vitamin C. It also aides digestion. A few small chunks are fine.
So, the next time you're in the produce section of your local grocery store and you see a pretty display of squash … go ahead, pick out a couple that look fun and give them a try. Here's the best squash identifier chart I've found. Bon appétit.