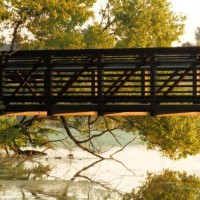 It's one of the nice things I can do with a blog – share my hobby of

recording my town, Stoughton! This picture above is just one of those lucky-being-in-the-right-place-
at-the-right time shots. It really
is
worth getting up at 5:30am when I can catch
a moment like this. It's the foot bridge at the start of the Yahara River Trail.
Lot's of folks walk, bike and take their pooches out for their daily duty!
Stoughton Parks takes good care of it, plus it's always clean and safe, too. I've even chosen
it for the new calendar (August) that I've created for 2016!