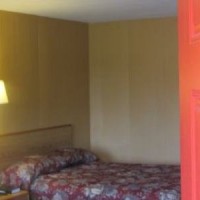 I stay in my fair share of chain motels whenever I take a trip, but when I'm planning our accommodations I always try to see if there's a cute "mom & pop" place to check out. There's just something so charming about motels that aren't cookie-cutter and – in some cases – have been around since before the U.S. interstate system started being built in the 1950s.
My husband and I found a cute motel on our recent visit to Wisconsin Dells. It's All Star Value Inn, and I highly recommend it next time you visit the Dells. Our room was clean-as-a-whistle, had a remodeled bathroom, and was very reasonably priced. You can link here if you'd like to learn more,
If you have a favorite mom & pop motel, please let me know with a quick email! I like to support these small businesses as much as possible.