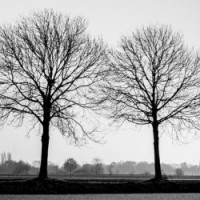 In my neighborhood, every October, the leaves go from green to mostly gold, and the slightest breeze sets them fluttering to the ground, whirling and sparkling like fat yellow snowflakes. But now, the trees are mostly bare. There are drifts of leaves raked to the curb waiting for pickup, and less orderly piles in the street.
All over southern Wisconsin, a few trees will retain their leaves for a while, but not for long. Gray and brown will soon follow gold and red. Within a couple of weeks will come a time for which Midwesterners have no name, but which is known in some parts of New England as the "locking time." It refers to the period "between" seasons, once colorful autumn is over but before the first snow falls.
The locking time has a particular feel, and the sight of bare trees and drifted leaves is only a part of it. The sun is still capable of warming an afternoon, not merely lighting it (which is about all it will be able to manage in a month or so). And yet, if you step outside after sunset, which is coming before 5:00 now, the chill will send you back inside for the jacket you haven't needed much since March. And if you park your car outside overnight, you'll probably have to scrape the windows in the morning.
As much as I love autumn, I am also a charter member of the winter-is-better-than-summer club. (Motto: "You can keep putting clothes on, but you can only take so much off.") As a result, I am never sorry to see the locking time arrive, and I welcome the portents of winter that come with it.