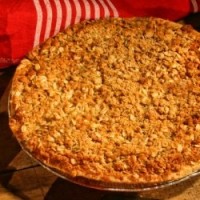 I know lots of people have holiday cookie baking parties this time of year. It is tradition and a lot of fun. I've had a few myself but over the past few years I have changed it up and have been hosting a holiday pie baking party. It's for my friends who want to try new recipe and have someone else taste test it.
This year I tried a pie that I've eaten before but have never made which is apple cranberry. It looked beautifu,l but it didn't taste as good as I hoped. If I decide to make it again I will add about another 1/8-1/4 cup of sugar. It was just a little too tart for me. I'm sharing the recipe with you so you can try it this year and see what you think.
Ingredients:
4 lb. Golden Delicious apples, peeled, cored and
thinly sliced

1 1/2 cups cranberries

1/4 cup chopped crystallized ginger

3/4 cup sugar

1/4 tsp. salt

3 Tbs. all-purpose flour

1 Tbs. fresh lemon juice

Sugar for sprinkling
Directions:
Position a rack in the lower third of an oven and preheat to 400°F.
To make the filling, in a large bowl, stir together the apples, cranberries, crystallized ginger, sugar, salt, flour and lemon juice. Transfer to the pie shell.
On a floured surface, roll out the dough disk into a 12-inch round about 1/8 inch thick. Using a lattice cutter according to the manufacturer's instructions, cut out a lattice top. Keep the dough on the lattice cutter and freeze for 5 minutes. Remove the dough from the freezer and carefully invert the lattice onto the filling. Tuck the top crust under the edge of the bottom crust and press to seal. Sprinkle the top with sugar.
Bake until the crust is golden and the filling is bubbling, about 1 hour, covering the edges with aluminum foil if they begin to get too dark. Transfer the pie to a wire rack and let cool for 1 hour before serving. Serves 8.