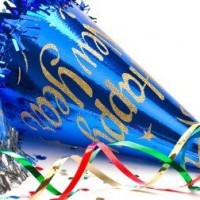 I can't remember anymore how the group of high-school friends we called the Crew coalesced, exactly. There were about a dozen of us, give or take, and a few other people came and went on the fringes of the group. Starting the year we were 17, various combinations of us spent the next 10 New Year's Eves at one guy's family cottage, on a lake. Some of the group would arrive at the lake mid-afternoon on New Year's Eve, while other members and guests would trickle in at various times—on occasion, some not until the wee hours of January 1 after seeing the year in elsewhere. The next day, people would leave in the same trickling way they arrived—some first thing in the morning, some later in the day. One memorable year, most of us didn't leave until after dark on New Year's Day.
I'm not sure anyone made it every year apart from the guy whose family owned the cottage. I know I missed a couple. One year, during the New Year's blizzard that seemed to strike annually in those years, I was on my way, but I stopped to help a guy who had slid into a snowbank. By the time we got him out, the road was impassable behind him and I had to turn around and go home.
A lot of things changed over the course of those 10 years—at least five of us got married, two came out as gay (including one of the guys who had gotten married), and one died. We all went to college, and several of us moved away from home. By the end of the decade, what had begun with half-a-dozen guys, two cases of beer, and two bags of chips ended with six or eight couples and enough food and booze to service a cruise ship for three days.
In later years, a couple of feeble attempts were made to recreate the event somewhere else, but it was never the same, and we've never tried it since. But we talk about it sometimes when we're together now: "Wouldn't it be great if . . . ?"