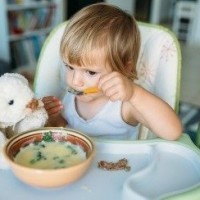 If your household is like mine…we try to make dinner close to every night. Between the cost of eating out, the unhealthy food choices you can make when dinner isn't prepared, and the fact that you've got leftovers for lunch the next day…it just makes sense. But we're a two-working-parent household. It's either got to be prepared the night before, cooked all day in the crock pot, or take 10 minutes to prepare and cook to get dinner on the table in a timely fashion and then be off to baths. (The kids, not my husband and me.) The other thing is that we get into a rut, cooking the same few things that our kids will at least taste, not to mention actually eat. So my theory is if there's one thing in the meal that just one kid will eat, I'm gonna try it for dinner. And since you can give a kid food but you can't make them eat it…I have chicken nuggets and PBJs on hand.
Without further ado…a couple of amazing, healthy, quick and easy dinner recipes for you and your family….

I've got one kid who loves chicken (and beans depending on the day) so this five-ingredient, stovetop chicken soup is perfect. (Use rotisserie chicken to make it in under 10 minutes…seriously.)
http://www.gimmesomeoven.com/5-ingredient-pesto-chicken-soup-recipe/

One of my kids will eat bread 'til he's blue in the face, so this works for him. I add a half bag of frozen mixed veggies to this recipe and it's a mini chicken pot pie… (Again, use rotisserie chicken.)
http://www.shugarysweets.com/2011/09/chicken-kisses#_a5y_p=1538667

I did this one last night! Essentially it's a chicken stew…but for you low-carb lovers…we call it a "Crustless Chicken Pot Pie."
http://zippitydodahhealthyeating.blogspot.com/2015/02/crustless-chicken-pot-pie.html?m=1
Last…I just want to make sure you're giving yourself a little credit. You're working hard to make sure nothing (at least not the big stuff that other people notice) falls through the cracks. To you…I raise a glass of wine from a screw-top bottle. That other cork stuff just takes way too long and who the HECK has any extra time? Wine, by the way goes perfectly with any one of these meals. Bon Appetit!