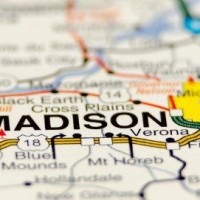 My daughter Kate was back in town for the holidays. A good habit she's developed over the years is to "buy local." She's surrounded by friends and co-workers in her West Coast city who do this without a second thought.
I've drifted in that direction in recent years, but didn't give the matter the consideration it deserves. I have nothing against Madison people who invest in some national enterprise and open a local version, but I have a lot of respect for the business owner who builds from scratch. After all, the company I work for, "id-West Family Broadcasting, has Madison roots and local shareholders. The other Madison stations are owned by national companies.
So, over the holidays we shopped at a fun antiques place called Retro Revolution, hit New Orleans Take-Out and Tory Miller's new restaurant Sujeo, bought Christmas gifts at B-Side Records and Badger Popcorn, and spent an afternoon at Frugal Muse looking through thousands of books.

I'm going to do a better job of buying local in 2016.