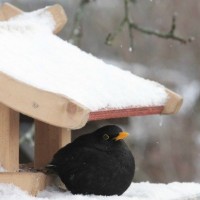 A dear friend of mine always gives me a thoughtful gift for Christmas each year. This year she gave me a gift card to Wild Birds Unlimited. She knows I'm a big birder and Wild Birds is one of my favorite shops. I decided to use it to buy "gourmet" bird seed. It is the freshest, fruitiest, nuttiest mix of goodness to attract all sorts of backyard birds.
Boy, does it ever work. In less than a half hour, I had birds flocking to the feeder. And within two hours I had five pairs of cardinals, blue jays, downy woodpeckers, juncos, chickadees, finches, nuthatches, sparrows AND my red bellied woodpecker that I haven't seen since last winter. I'm still waiting for the evening grosbeaks to show up. That will completely make my year if they do. A tufted titmouse would also be a treat.
There is nothing I love more on a cold January Sunday than to sit at my window in my fuzzy pajamas and blanket and watch the birds at the feeder. My binoculars, bird book and cup of tea are always close at hand. Even though I still have Christmas decorations to take down, laundry to do and the kitchen floor to mop, I can't help feeling that those things all can wait. Having a little quiet time with the birds is all I need to be doing at this moment.