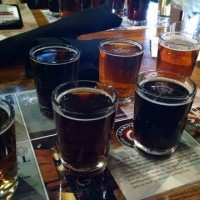 As of this moment, I have 217 pictures on my phone. At least half of them are pictures of beer. Same thing on my Facebook page. Lots of beer pictures. The picture at the top of this post is one of them.
I have mentioned at this blog before that Ann and I are beer tourists. One of our favorite things to do is to take off on a weekend day to visit breweries and beer bars. Not long ago we spent a day in Rockford, which is home to several brewpubs, including the relatively new Rockford Brewing Company and Prairie Street Brewhouse, right on the Rock River downtown. We had dinner at Pig Minds Brewing in Machesney Park, a Rockford suburb, where all of the food is vegan. (How Madison has gone this long without a vegan brewpub, I cannot imagine.)
We were with some other couples on our Rockford trip, but even if it's just the two of us–or just me, when I'm traveling by myself for one of the other jobs I have–we often find ourselves talking with fellow beer lovers. I figure if somebody's sitting at the bar in a place that specializes in beer, I have enough in common with that person to strike up a conversation. One time, I got on so famously with the couple sitting next to me that they invited me to share their pizza. Another time, a fellow barfly ended up giving me a ride to the next stop on my beer tour. (We're still Facebook friends today.)
Beer tourism is a sociable experience. If it's not, you're doing it wrong.