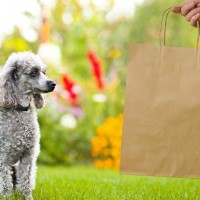 There are lots of things I like about living in the Madison area . . . not the least of which is the downtown vibe when the weather warms up. My wife Terri and I took advantage of the beautiful weather on a recent Saturday and took an urban hike. It was great. We took our poodle Ziggy with us, and while we thought that may limit what we'd be able to do, he went anyway. Because we adore him!

We were on Monroe street, window shopping, and ran into a really nice woman who just loved Ziggy. She turned out to be Orange Schroeder, the owner of Orange Tree Imports. We told her a little about our "big boy", and when we found out who she was, we noted that we were just in her store. We explained that Ziggy had to sit in the car, so we had to hurry. She told us that Ziggy was more than welcome, and she invited us to come back in her store with Zig and spend a little more time.

We were really excited, and so was Ziggy. He was such a good guy, too. Here is this 75-pound poodle walking around like a much smaller dog. No problem . . . he stuck close to us and didn't create a problem, not even a little one. We ran into several other shop ownerswho welcomed Ziggy in, and he responded with great decorum each time.

Thanks to Orange, and the rest of the cool shop owners who realize that sometimes a dog comes with the territory. Not saying everyone would welcome a pet, but Madison is the kind of place where if you ask, you might be surprised what is acceptable. Love this city!