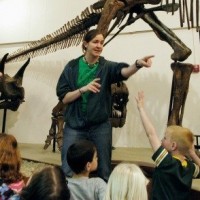 One weekend not long ago my husband, Marc, took our four year-old, Everett, to the UW Geology Museum. Yes . . . the Geology Museum! Yes…here in Madison! Who knew? It's by Camp Randall and it's free!

The morning started out with Everett wanting to see a dinosaur egg. Not sure how that popped into his brain . . . but it was there. And as all good parents do, we started scouring the Internet looking for something that would appease his spontaneous interest in seeing a dinosaur egg. And there it was . . . the UW Geology Museum! (The picture at the top of this post is borrowed from the museum website.)

Everett told me he wasn't scared because, "They're just fossils, Mom, not real dinosaurs." He was thrilled! They've also got an area with a whole bunch of minerals and stones in it that, when lit with a black light, turns into a groovy neon show. Marc said the parking was a bit of a hassle, and you'll want to avoid visiting on any sort of UW game day, of course. But I highly recommend this amazingly cool place for you and your family. There are tours available, but you can just go and walk around on your own. If you've got a preschooler, they hold storytime at 10:30AM on the first and third Thursdays of each month. There's a book reading, hands-on specimens, and then a craft project that you get to take home.

"ROAR!" That's dinosaur-speak for "check this place out!"