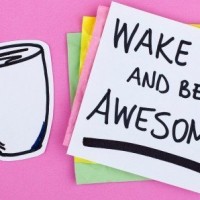 I'm not one who dreads going to work on Mondays, but I know many do, so I offer these tips.

1. Start with Sunday. Do something fun. Get some exercise. Walking the dog counts.

2. On Monday, avoid hitting the snooze button. Just get up, even earlier than usual.

3. Have breakfast. You'll have time if you don't hit the snooze button. I know people who skip breakfast or have a doughnut. They eat a big lunch, are tired the rest of the day, and blame Mondays.

4. Wear something nice. I have a better radio show when I wear nicer clothes. I don't know why. In the 1930s, NBC insisted its radio announcers wear tuxedos, even though the audience would never know. I rarely wear a tuxedo.
5. Avoid meetings. (This may not be up to you). Enlightened managers know that Mondays and Fridays are the worst days for
meetings. If your boss is old fashioned, just print this and leave it on their desk.

6. Have lunch with a friend. This will give you something to look forward to.

If you have other ideas, please share them with me at pat.oneill@magic98.com.