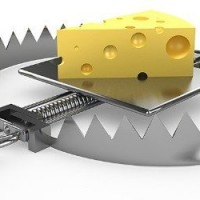 Earlier this week, our two cats were acting strangely, fascinated with spots in the kitchen and dining room that don't usually fascinate them, even during those times of the day and night when they're usually asleep. After 24 hours of this, I finally saw the reason why, when a mouse darted along the floorboards in our kitchen. I put out a trap, but we haven't caught him yet. But we haven't seen him again either, and the cats have calmed down, so maybe the little guy went out the same way he came in.
I'd rather have a mouse than the other unwanted visitor we once had. Several years ago, we were awakened in the middle of the night by one of the cats freaking out. Somehow a bat had gotten in, and it was darting around trying to dodge the bedroom ceiling fan. Intellectually, I understand that bats are harmless, they eat tons of mosquitoes, and that they are generally friends of humankind. None of that mattered to me, however, and I took off out of the room as fast as I could, leaving my wife to fend for herself, as the bat chased me down the stairs. I zipped into the downstairs bathroom, shut the door behind me, and started to think about how we could sell the house and move without me having to come out of the bathroom.
After a while, my wife crept downstairs holding a weapon: a framed picture she grabbed off the bedroom wall, because desperate times require desperate measures. She immediately saw how the bat had gotten in. Earlier that night, one of us had opened the sliding patio door without noticing that the screen was open. The bat had clearly flown in that way, and he probably went right back out after he chased me downstairs, because she looked everywhere and didn't see him anywhere.
I came out of the bathroom eventually. Reluctantly. Warily. Like this week's mouse should do if he's still around. Both cats have their front claws and would love to catch him, so he'd better steer clear.