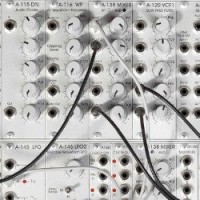 (Pictured: musician Keith Emerson was a wizard of the analog synthesizer, which required a player not only to work the keys but to plug and unplug cords and twist knobs.)
You may have heard that Keith Emerson, keyboard player in 70s rock band Emerson Lake and Palmer, died earlier this month. It was quite tragic, actually–Emerson apparently shot himself because nerve damage to his hands left him unable to play the way he wanted to.
Although I grew up on Top 40 radio, and the first records I owned were by Tony Orlando and Dawn and the Partridge Family, I went the way of many boys when I reached the middle of my teen years, and I got into progressive rock. Emerson Lake and Palmer was a band made for a geek like me: complex, keyboard-based music, often with science-fiction themes in the lyrics. I loved it.
On June 9, 1977, Emerson Lake and Palmer played the Dane County Coliseum as part of one of the more famous failed rock tours of all time. They hit the road with a full orchestra of over 100 players to recreate the symphonic sound of their most recent album, Works Volume 1, but they hadn't bargained for some of the problems they encountered. It was fabulously expensive to maintain an entourage of that size, for one thing. For another, union regulations limited the distance the orchestra members could be required to travel per day and how many shows they could do in a week. So the tour began shedding orchestra members almost immediately, and not long after the Madison date, the band gave up on the orchestra entirely. I was at the Coliseum on that June night, and again that November, when Emerson Lake and Palmer came back to town, just the three of them, playing an epic three-hour show that remains one of my favorite shows ever.
For a long time, I didn't listen to my Emerson Lake and Palmer albums. They seemed overblown and ridiculous to the older me, not nearly so cool as they had seemed to the younger me. But I have been listening to some of them since Emerson's death, and even though I don't find them quite as awesome as I did years ago, I'm still able to recognize what a spectacularly gifted musician Keith Emerson was. To see for yourself, watch this.