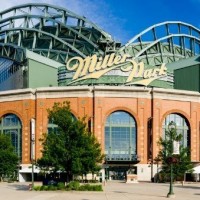 (Pictured: Miller Park; credit: Keith Homan, Shutterstock.com)
The Milwaukee Brewers' 2016 season is officially underway. Too bad the home opener was a loss 🙂 I'm not even a very big fan of baseball, but I'm a huge fan of Bob Uecker!
I hope Brewers fans realize the treasure that Bob is. So many other major league baseball announcers are rather lackluster compared to Uecker. His well of funny stories runs deep, and I crack up every time he raves about Usinger's Sausages and Krrrrisp Kraut! Not only is he Mr. Baseball–Bob Uecker, Mr. Baseball–he's Mr. Wisconsin as well. I can only hope my mind is half as sharp as his is when I'm 82 years old.