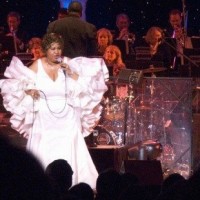 (Pictured: Aretha Franklin onstage; credit: Joseph Sohm, Shutterstock.com)
My wife and I have no children and few expensive vices, and we don't live extravagantly. Nevertheless, we try to keep the fun budget in balance. We don't go to every concert or every show we'd like to attend, because tickets cost a lot. But this summer is going to be a challenge. Last week, two concerts were announced, and we'd like to go to both of them.
Aretha Franklin is playing the Riverside Theater in Milwaukee on June 3, and while I'm not somebody who owns every record Aretha ever made, she's Aretha Franklin, for cryin' out loud, and a guy should see the Queen of Soul when he's got the chance.
On July 18, Steely Dan and Steve Winwood, who are touring together this summer, will play the BMO Harris Pavilion on the Summerfest grounds in Milwaukee. I thought, when they weren't announced on the Summerfest bill itself, that I was safe–but no. Steely Dan is my favorite band. I've seen them three times, and one show with Donald Fagen's side project, the Dukes of September, which features Michael McDonald, Boz Scaggs, and the Steely Dan band. I'd rank Steve Winwood among my favorite artists, too–we saw him in the spring of 2015.
So we're doing arithmetic right now to figure out if we can go to both shows, and if not, which one. My wife's Steely Dan fanaticism is nothing like mine, so I suspect she probably doesn't need to see them again. (And to be honest, I am not sure I need to hear "Hey Nineteen" again, but if they announced they were playing an entire album start to finish, as they did not some of their shows last year, I'd love that.) But Winwood blew us away and I think we'd both like to see him again. If the weather is good, the BMO Harris Pavilion is a great venue for a show, too.
And Aretha Franklin is the Queen of Soul.
Decisions, decisions.