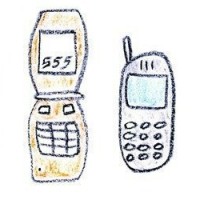 As long as I can remember I have been naming my cars. Back in the day ,people wouldn't think of not naming their horse. My car is MY horse. Right now Murry is my car.
Well, I've taken it a step further, and have named my phone. Eddy. He's a flip phone, and of course hardly anyone even knows what a flip phone IS any more. Frankly, I don't care, I love Eddy. He is beat up, missing letters, scratched, and fits in my front pocket. I've dropped him, he's been lost, he's been soaked, and he remains faithful to me. He does what I need him to, and he has every important phone number I have collected over years. Texting is done the old-fashioned way, three figures on a key. I am used to texting that way! I LIKE texting that way.
Well, for a few horrifying hours, Eddy was on the fritz. Panic is the nice word. It turns out phones like him are no longer made. But the people at Batteries Plus were so-o-o-o kind. They did not tease me. They put in a new batter,y and I bought a new charger. That put me back on track. They told me about another place, Tech Heroes, just a few doors down from them. (Across from Klein's Floral & Greenhouses.) They repair all kinds of phones and Dave showed me the ropes of how to get another flip phone! I left there feeling so much better about my life that I felt that I must share!! Tech Heroes sells and fixes phones. They buy used and broken devices, too. I know there are a lot of people who still like their old-fashioned phones. There is hope for us!