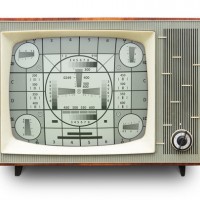 The rhythm of our days is defined more by television than we realize, I think. For many Midwesterners, the 10:00 local news marks the end of the evening and time to go to bed, so you get in your eight hours before rising at 6 for another day. Do East Coasters—who have to rise at 6 in their own time zone—think of the 11:00 news the same way, or are they checking out during the last hour of primetime? I spent two weeks on the East Coast last fall, and I never got used to the idea that primetime is an hour later out there.
Television used to define the rhythm of our days in other ways. During the week, the TV stations marched in step, with a different program every 30 or 60 minutes. Saturdays were not entirely like that. Game of the Week started at 1:00 and got over sometime between 3 and 4, and it would be left to the local affiliates to pick up afterward. Channel 15 would occasionally start an episode of Star Trek right after the game and show it without commercials so it would end at 4:00. Sometimes they would bust out an episode of Twilight Zone as a time-filler, and it was always a treat to stumble upon it, unlisted in TV Guide.
Late at night, TV stations stopped bowing to the tyranny of the half-hour. They'd start a movie at 11:40 or 12:20, as if to say, "it's late, we're off the clock, who cares." Late-night TV looked different, too. There were not nearly as many local buys of regional and national commercials as there are now. Most of the ads you saw late at night were for local businesses, produced by local stations. You'd see a lot of public service announcements, too, often on grainy film scratched from repeated use, or slightly out of focus.
I liked to watch the TV stations sign off, play the National Anthem, maybe put up color bars, or just go to static. At that point, there was nothing left to watch, and you might as well go to bed. Fall asleep with the light of the unblinking screen until the early news, Sunrise Semester, or some noisy cartoon restarts the rhythm for yet another day.