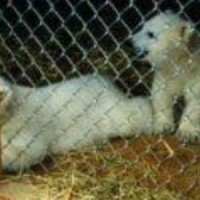 The death of Cincinnati Zoo gorilla Harambe has lead to lots of conversation, and I think that's good.
In 1988 we faced a similar situation in Madison. A developmentally disabled person climbed into the polar bear exhibit at Henry Vilas Zoo one morning. Chief was a stunningly beautiful animal, but he had to be killed to save the young man.
Magic 98 listeners quickly turned a sad situation into something positive, by contributing enough money for Vilas Zoo to obtain two orphaned polar bear cubs from Alaska. It was a thrill for me to be on the trip to Anchorage to retrieve Nanuq and Norton, and I snapped the photo above on that day.
You can be angry at the mom in Cincinnati who let her child out of sight. You can be sad that Harambe is gone. But let the conversation continue. Conversation at zoos across the country on safety procedures. Conversation between parents and kids on respect for animals.