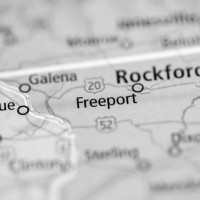 In 1980, I spent the summer as a nighttime rock 'n' roll DJ in Freeport, Illinois. It was a pretty sweet gig for a 20-year-old college kid. I was on the air Sunday through Friday nights from six to midnight, so I had Saturday nights to party with my friends at home. I was paid the princely sum of $135 a week, but I was living at home, so my only expenses were gasoline and beer.
The studios were located on the 12th floor of a bank building, one of the tallest buildings for miles around. We watched the fireworks from three northern Illinois towns on the Fourth of July, but my favorite story involving the building comes from the night that the morning DJ, a college friend, had nothing better to do than to come up and hang out with me. He was a maniac air-guitarist, and after he put on an extremely acrobatic performance, the phone rang. "Hey," the listener said. "When are you gonna do that again?" Well, the whole streetside wall was glass, after all.
In addition to being a sweet gig for a rock-and-radio obsessed college kid who didn't need very much money, it was also one of the most agreeable jobs I ever would ever have. The office was already closed by the time I got to work, and I had the place to myself. Just me, and a black-and-white TV set in the newsroom in case there was a baseball game on TV.
I got to interview Ray Sawyer and Dennis Locorriere from Dr. Hook that summer, as part of the publicity for their appearance at one of the county fairs. (I still have the tape, but I don't have anything to play it on, and even if I didn't, I'm afraid to listen to it.) At the end of the summer, I did a week of shows from another local county fair, just before school started again. At the time, I didn't really consider quitting school and keeping the job, although in the years since I have wondered how it might have turned out if I had.
When I think about that summer now, I don't necessarily remember being on the air right away. What I remember first is turning the transmitter off at midnight, being down in the parking lot by 12:05, and heading for home. In my mind's eye, I can still drive Illinois highway 26 through that steamy Midwestern summer, across the state line and back to the house I had grown up in. (In the fall to come, I'd move to an off-campus apartment at college and never again live full-time at home.) Many were the nights I'd stay up until 2:00 or 3:00 in the morning, and wake up at noon to start another day–another day in the life of a rock 'n' roll DJ, the only life I'd ever seriously wanted to have.