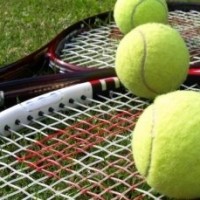 . . . I'm coming for you at the U.S. Open!

Because I've signed up for Advanced Beginner tennis lessons! Surely I should be ready to defeat the world's best female tennis player after a few lessons this summer 😛

Even though I played on my (very small) high school tennis team for two years, that was 35+ years ago, and I could use a refresher course in my serves and ground strokes. My husband and I love playing any chance we get, but I don't want any bad habits or bad form to get any more deeply entrenched. After searching online, I found some lessons that UW-Madison offers lessons, and they don't start until 7:30 at night! Yay, I won't have to worry about showing up late after work for every lesson and miss the first few important minutes of instruction.

The UW-Madison Rec Sports website has information on all the activities/lessons they offer, like ice skating, scuba diving, personal training, and lots more. Check it out if you could use a refresher in a sport you used to love years ago.