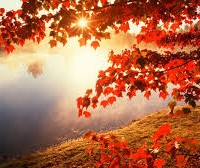 It's something most everyone will go through in their lifetime: having to deal with aging parents. I have now entered that realm with my father, who has been dealing with cognitive issues for a few years now. Recently he had some major health issues which required surgery. Unfortunately, the anesthesia from that surgery caused an even greater state of mental decline, so my family is looking for different living options for him and my mom. They still live in the house I grew up in, and now it's just too much to take care of. Most people in their 80s don't want to worry about lawn care anymore. But it's hard for people of that age to let go of the way of life they've known for decades.
I was home in Michigan for a few days last month while my dad was in the hospital. He then needed to be transferred to a multiple care facility so they could make him physically stronger to go home and monitor his mental state. Since my brother lives close to my parents, he and my sister-in-law have been the ones who do most of the work for them like laundry, lawn mowing, making major decisions. That brings on tremendous feelings of guilt for me, since I wish I lived closer to help with all of those things and spend more time with them.
When I came back to work, two colleagues came to talk to me about how my dad was doing and to let me know that they too were going through similar circumstances. It was then I realized that there might be dozens more people I work with who are going through the same thing. When you reach your 40s, 50s, and 60s, you're going to have to deal with aging parents. It's a fact of life. And it can be very hard.
If you are dealing with aging parents with an illness, you are not alone. You will feel all kinds of emotions, from guilt to frustration, anger, fear, sadness, anxiety, and complete exhaustion. It's OK to feel all of those things. I have found that talking with others who are going through the same thing really helps. Whether you are dealing with Alzheimer's or dementia, cancer, monetary concerns when it comes to assisted living, or just making sure your elderly parent is safe living in his or her own home, it all can be overwhelming.
Here's a list of links where you can start to get the help and support you need as a caretaker. This is a topic not a lot of people openly talk about, but they carry it around with them every day. I know because I'm living it. Just know you are not alone. Start here: