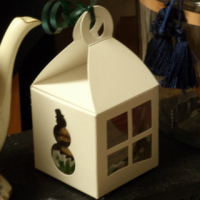 Downtown Stoughton's 'Shop Small' was a huge success last weekend! It was so great to see so many old friends and have so many new people visit!
You should visit Stoughton again this weekend for the Victorian Holiday Weekend for food, art, live music, and other events. I'll be there both Friday and Saturday with the addictive "Ginger Molly" cookie I created. You can buy them in a box like you see above. (My friend Allison bought some and came back for another two dozen, saying "adorable packaging is wasted on us!") I sold every single cookie and took lots of orders last weekend.
Look for me at the indoor Artisan and Farmer's market in the Chorus building, which used to be Catfish River Antiques. I'll be there from 8 to 5 on Friday and 8 to 6 on Saturday. (Not on Sunday, though: I have to be on Magic Sunday Morning!) Stop by for a free sample while they last.