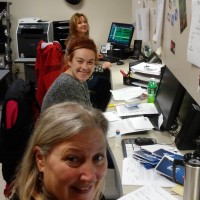 I am truly humbled by the Holiday Wish experience. Between the powerful letters sent to the station from listeners, taking in donations from those so happy to help out this holiday season, and the impact this makes on so many people in the area, there is nothing I've been more grateful to be part of.
(That's me in the middle of the picture, between Ginger Martin and the top and Kathryn Vaughn at the bottom. Holiday Wish fundraiser day was fun.)

And when I say that, I mean I'm fortunate to have come into contact with so many generous people, along with those who are really at the the end of their rope. The letters from people who were ashamed or felt guilty of asking for help broke my heart. We're all struggling, and sometimes we need to lean on one another. There's no shame in asking for a hand. We all need it at some point!
So now, as we at Magic 98 lick envelopes and send off the holiday wishes, I sincerely hope you are able to finish off this year strong, even if you built yourself up to the point of reaching out. It's tough to do, maybe one of the toughest things ever, but it's even tougher to fight battles completely alone.