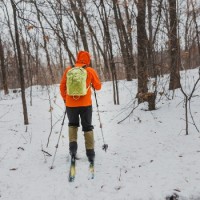 I really don't care for winter.
That must be why I just bought a pair of cross country skis! My husband has casually mentioned a few times over the years how it would be fun to buy some cross country skis. I usually just ignored his comments. I've only been cross-country skiing once in my life—a good 20 years ago in Door County—and I didn't find it objectionable, but I was also in no hurry to do it again.
Well, a couple of weeks ago I heard an ad—on Magic 98!—for the Hoofers Ski and Snowboard Club Resale event at Union South.  I mentioned it to my husband, and before I knew it we were getting fitted for skis, boots, and poles. The staff at the Hoofers sale was very attentive and worked to make sure our new skis and boots were a good fit. I highly recommend the Hoofers sale whenever you're ready for some new ski or snowboard gear.
I thought for sure as soon as we bought skis, the Madison area would never get any snow! I've been proven wrong by these last two weekends, and I hope to get out on my new cross country skis very soon so that I can whine about how cold I am! Here's a list of state trails. I hope to ski on a few and not make a fool out of myself!