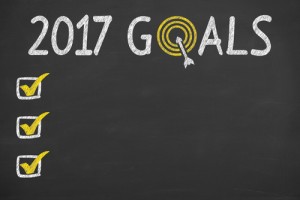 If you feel pressure to make some kind of resolution to lose weight, or save more money,  or eat better in 2017 . . . stop! Pressuring yourself to better yourself just because it's January 1 is almost setting yourself up to fail. When you're ready, when YOU are READY to make a change in your life, for whatever reason, you don't need a date on the calendar to tell you to do it. Set your sights on losing that weight or saving that money when you are mentally and emotionally ready to say, "OK, let's do this!"
If you are ready for go-time on January 1, great. But if you're not, that's OK too. I never make New Year's resolutions because I believe that if I want to make a change in my life, I'll start whenever I'm ready. I made a resolution in November because I was really ready, and it's going great.  I'm encouraged, and I'm going to keep on with my mission. It's not always easy, but it's easier knowing I'm committed because I wanted to, and not because tradition tells me I have to.
Whether or not you make a New Year's resolution, I wish you a happy, healthy and prosperous 2017.