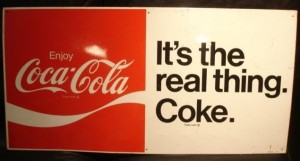 Our family used to hit the road on weekends and visit all the area antique malls. There were dozens all around southern Wisconsin. My wife and I liked advertising signs, and our daughter built a large collection of Annie movie memorabilia. I found this Coke sign in the 1980s in an old store called the 1905 Emporium, in the small town of Richmond, Illinois.
These days the Internet has replaced most antique malls. My grown-up daughter has moved on from Annie. And my wife and I are working on reducing a fairly big collection of stuff.
We discovered a new store on Williamson Street last summer called Pieces Unimagined. The owner, Kyle, was interested in buying my Coke sign. I asked him where he had lived before moving to Madison. He said he used to own a store called the 1905 Emporium in Richmond, Illinois.