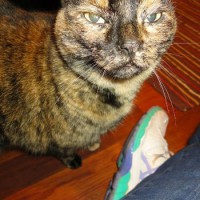 You often hear me talk about Truman, my dog. I also have a cat. Her name is Chili, and you may have heard me talk about her as well. She is a beautiful cat with tortoiseshell coloring and a personality bigger than any room she stands in.
I've had a cat in my life ever since the age of three. I can't imagine not having a cat, but this cat . . . this cat isn't just a cat. If I believed in reincarnation, I would think she was the queen of a large country in her past life. She may have even been a dictator. She certainly dictates to me what I am to do, where I am to walk, when I am to move or not move. She will stand in the middle of any room (right in my way, of course) and expect me to walk around her. She won't budge when she sees me walking towards her, and if I get too close, she is the one who tells me to get out of her way.
She demands to be fed treats when Truman gets his breakfast and supper. She knows she is not to scratch on the furniture. and yet she'll walk right up to a chair, turn her head, look at me, and start scratching. When I shoo her away, she'll go right back and do it again, and again, and again. Since Truman is a herding dog, he will immediately charge up to her to tell her to stop scratching. She listens to him, just not to me.
Truman and Chili are best friends. She stands up to him as well, whenever he wants to play too rough with her. (I believe Chili could stand up to a grizzly bear and win.) She is not a mean cat, though. Not at all. When friends come over, she rubs on their legs and wants to be held and petted. She'll sit in any lap. All my friends and family comment on what a nice, friendly cat she is. They don't believe the stories I tell them of how she talks back to me using bad cat words when I don't let her go outside. They don't believe how she screams at me if I dare walk where she is sitting. They don't believe how she likes to sleep on me at night and purr, but if I want to roll, over she'll growl.
Don't get me wrong. I love Chili. It's just that I have never had a cat with her type of personality before. Tortitude is what it's called. Some people believe that torties have some sort of extra chromosome that makes them hyper-sensitive to everything.  Whatever it is, I can attest to the fact that Chili has tortitude and plenty of it.  Secretly I kind of love it, and I respect her for it.  You gotta love a cat with some attitude, especially when they love you right back.