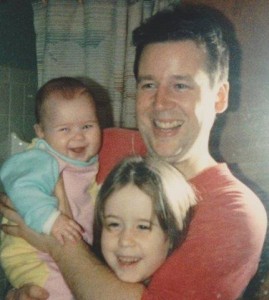 Here's a 1980s photo of my friend Dave Hanson, with his daughters Anna and Melissa. He worked in the Magic 98 sales department. Our families would get together to grill burgers while Dave and I would shoot baskets.
We always talked music, both the songs I played on the radio and the songs he performed as a member of Madison's popular band, the O'Bros.  He was a talented musician, growing up within the Hanson Family Jazz Band.
Dave died suddenly and unexpectedly last month.
I will never know a more optimistic, naturally sunny person. I saw him truly down only once, because a family member was sick. He was also an excellent father. A divorce didn't stop him from maintaining close relationships with his daughters, who are now bright, confident young women.
I've heard that a way to honor someone's memory is to take one of their best qualities and make it your own. I will try to do that.