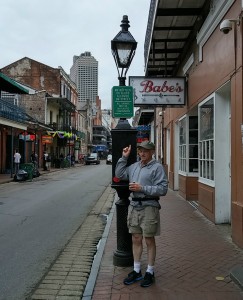 It's been too long since I visited New Orleans . . . about two years. My husband (pictured) and I visited in March of 2015, and we spent only 3 1/2 days there. We vowed that we would be back as soon as possible to explore more of the area. And now it's almost time.
We'll spend our first night in Baton Rouge because we've never been there before, and it's so close to New Orleans. One of the highlights of our first visit was two different bike tours we took of the French Quarter and Garden District. We'll probably do the same thing again because the tours are so interesting, and they also burn off some of that Creole food that is SO GOOD!
If you have any suggestions of places to visit or things to do, please feel free to email me!