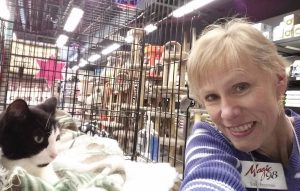 I had a wonderful time volunteering during a recent adoption fair put on by Dane County Friends of Ferals. Almost too wonderful, because I wanted to take a couple of cats home with me, but my husband and I already have plenty of fur babies! The adoption fairs are held every Saturday afternoon at MadCat Pet Supplies on Mineral Point Road in Madison.
I was elated when two cats were adopted during my volunteer shift. One of them was 10 years old! People tend to want to adopt adorable little kittens, so it did my heart so much good to see someone wanting an older cat.
If you're looking for a kitten or cat to give a "furever" home to, or if you've been searching for a fun way to volunteer in the community, please check out Dane County Friends of Ferals.