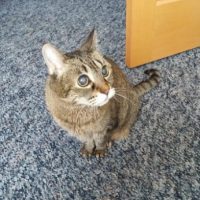 This is my oldest cat, Parke. She stole my heart the minute I first saw her. My husband brought her and her orange tabby brother home on January 2, 1998, after he found them, apparently abandoned, in a Madison park. We kept checking the lost-and-found ads for the next couple weeks to see if anybody had reported them missing, but nobody ever placed such an ad. We assume they were abandoned by some tenants moving into a new apartment near the park when they found out the landlord didn't allow pets. Just the fact that these two kittens survived life on the streets for a while and didn't get hit on a busy road is a miracle.
At age 19-and-a-half, Parke is the oldest cat I've ever owned. (Actually, I should re-phrase that, and say I'm the oldest human she's ever had.) Her age has been catching up to her, however. In early March, she very quickly went blind. I could tell her eyesight had been declining somewhat—just like any other older animal—but she seemed to go blind literally over the course of a day or two. We took her to our vet to see if we could do anything to help her. Those first few days of her total blindness made me wonder if this was the beginning of the end for Parke. However, she seems to be adapting better than I could have hoped for. She's been walking around and reacquainting herself with our house. She often gently bumps into walls and doors, but overall she's getting around just fine. She's lost a little weight, but she can still find the food and water bowls. She can still find the litter box in our mud room. She sometimes misses by a couple inches, but luckily the vinyl flooring is easy to clean.
Parke has stolen my heart once again by showing me how to persevere after a setback and keep on going when life hands you lemons. I will treasure every remaining day she has left.