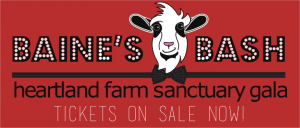 Ever since I can remember, I have always loved animals. When I was three, my parents bought me a Persian kitten for my birthday. I named him Frosty. That cat would let me do whatever I wanted to him, and he was just so patient and sweet to me. We had an understanding. I could dress him in doll clothes and he would only slightly swish his tail in disgust. Everyone else in my family has a different story about his personality, but Frosty was my cat.
While I was growing up, I had several pets—fish, hamsters, gerbils, and a dog. But that wasn't enough, and my love for animals soon evolved into bringing home strays. Many of the cats I rescued were strays. I would beg and plead my parents to let me keep them, and they always gave in. Then came the wildlife. Whenever I found an injured bird or bunny, snake or squirrel, I would run to tell my parents. Then we would carefully scoop up the poor little thing(s) and either try to find their nests or put them in a shoebox with some grass and take them to the nature center the next day. I remember the night one bunny didn't make it, and I cried and cried over that. I remember wishing there was something more I could have done to save it.
That same love and compassion for animals has only grown over my adult life, so it was serendipitous that I found Heartland Farm Sanctuary. I took this excerpt from their website which best explains who they are and what they do.
Heartland Farm Sanctuary, located in Verona, Wisconsin, is the largest dedicated farm animal sanctuary in Wisconsin. Heartland is a nonprofit organization whose mission is to provide care for farm animals in need, nurture people through the human-animal bond, and foster respect and kindness toward animals and each other.
I can't explain how much I love this mission statement and how much my heart relates to it.
That's why I am thrilled to be the host of Heartland Farm Sanctuary's annual gala to raise money for this wonderful organization. It'll be a night of fabulous plant-based food, music and dancing, and outstanding auction items to bid on. Get this, too: you will actually get to meet some of the Heartland Farm Sanctuary's animals that night. In fact, this year's gala is called Baine's Bash in honor of Baine the goat. He'll be there along with his barnyard friends.
If you want to become involved in helping animals, I encourage you to buy your tickets to this event and see what Heartland Farm Sanctuary is really all about. Hear stories, meet volunteers . . . and those animals. Maybe you can get your company to buy a table. Or get a group of friends together and all dressed up for a fun night out.
For more information about Baine's Bash, just click here. I hope to see you on Saturday, April 22, at the Madison Concourse Hotel.