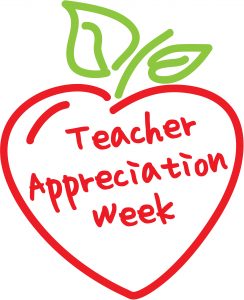 May 8 through May 12 is Teacher Appreciation Week! And although I appreciate teachers and the insanely important work they do every single day, I'll be making an extra effort this coming week.
Personally, I remember so many of my teachers, and I loved most of them. My third-grade teacher, Mrs. Mary Franklin, made a huge impression on me. I remember wanting to do really well to make her proud, and I knew she wanted the best for me. I loved being in her classroom. We're Facebook friends now, which tickles the heck out of me.
Middle school—that awkward, horrible, smelly time in your life when adults know nothing. However, there was one teacher I could've spent every single second with: Mrs. Judy Emmerich. She's one of the most beautiful people I've ever met. She pulled the best out of every single kid she taught by giving each student the utmost respect. She made me feel like I was capable of doing anything in her classroom, at exactly a time when confidence seems to lay roadside. My love of writing began in her classroom, and I still remember way too much about Greek mythology because of her.
Then in college I got the total and complete honor to take a broadcasting class from Mark Zoromski. This man put his heart and soul into his students and the careers he was helping them fall in love with. The love we all had and have (he's still teaching, but at Marquette instead of UW-Milwaukee, where I went) for him was obvious in every single project and at a very personal level with every kid.
And now the world has come full circle as my son has started school. Marc and I joked about who learned more from Cori, Everett's Toddler Time teacher: our kid or us as parents. Cori is amazing, and I'm lucky to have her not just as my son's teacher but as a friend. This year Everett is in 4K, and if tears of gratefulness could fall onto a computer screen, you'd see mine. Mrs. Lessner has such obvious and unconditional love for every single one of her students. She's a miracle worker and Everett loves her so ridiculously much.
The best teachers are those who show you where to look but don't tell you what to see. I've been blessed to have my share of life-changing teachers along the way. I'm grateful that my son can learn about the world and about himself from talented people who show him where to look. Teachers, you are appreciated every single day, but this week most especially. Thank you for allowing this career to choose you. Happy Teacher Appreciation Week!