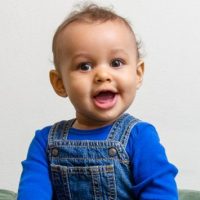 Our Kid of the Week is seven-month old Noah. He was nominated by his aunt, Kathi, who says, "Noah is the smiliest, happiest little boy you could imagine! He loves looking at shiny things and putting anything and everything in his mouth."
Noah wins prizes from Madison Property Management and Thompson Investment Management. To learn more about them, and to sign up a great kid in your life to win next, click here.
To see pictures and learn about some of our other Kid of the Week winners, click here.