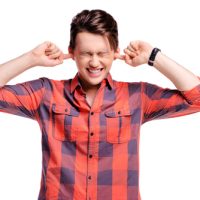 You may have heard on the news this week that Manuel Noriega, former president of Panama, died. In December 1989, the U.S. military launched Operation Just Cause, an invasion of Panama intended to safeguard Americans living in Panama, curtail drug trafficking there, and ultimately throw Noreiga out of office. After less than two weeks, Noriega sought refuge in the Vatican Embassy in Panama City, where he surrendered to American officials in January 1990. Noreiga served 17 years in a federal prison in Florida and was released in 2007.
It was widely reported at the time that American forces blasted music through loudspeakers outside Noreiga's residence in an attempt to smoke him out.  An Armed Forced Radio station provided the music—much of which was requested by soldiers serving in the operation. A little-known Department of Defense report surfaced this week containing the list of songs. Not all of them were loud and obnoxious, and some of them are pretty funny when you consider what they were intended to accomplish. The list included:
"50 Ways to Leave Your Lover" by Paul Simon
"Big Shot" by Billy Joel
"Danger Zone" by Kenny Loggins
"Eat My Shorts" by Rick Dees (a novelty song by the singer of "Disco Duck")
"Give It Up" by KC and the Sunshine Band
"It Keeps You Running" by the Doobie Brothers
"No More Mr. Nice Guy" by Alice Cooper
"Nowhere Man" by the Beatles
"Refugee" by Tom Petty and the Heartbreakers
"The Star-Spangled Banner" by Jimi Hendrix
"Wanted Dead or Alive" by Bon Jovi
"We Gotta Get Out of This Place" by the Animals
The report, which you can read at the link above, shows that the military really does have a sense of humor . . . and that American soldiers had pretty good taste.