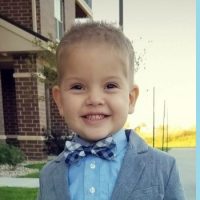 Our latest Kid of the Week is three-year-old Sebastian from Verona. He was nominated by his father, Valerio, who says, "Sebastian is a sweet, loving, smart, funny toddler with a very creative imagination and a heart bigger than himself. He's also Mommy and Daddy's tough little guy, and we are so blessed to have him in our lives!"
Sebastian wins prizes from Madison Property Management and Thompson Investment Management. To learn more about them, and to sign up a great kid in your life to win next, click here.
To see pictures and learn about some of our other Kid of the Week winners, click here.