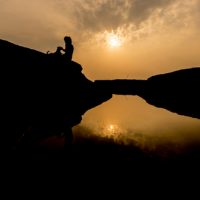 Recently, I came across a photo that instantly moved me to tears. It was of someone's Australian Cattle Dog with his legs propped up on a barrier overlooking the Grand Canyon. (To see it, click here.)
You might be able to guess why this photo had such an emotional effect. If you can't, I will explain.
For as long as I can remember, I have been that girl who loves to be out in nature. Whether it's hiking in a forest, strolling along a prairie, relaxing by a lake or a stream, sitting on top of a mountain or in a meadow, I connect with nature in an extreme way. It's where I go to get grounded and to really feel what life is all about. I've never been one to rely on TV or the Internet or my phone or social media to dictate to me what happiness is. I know what makes me happy . . . and it isn't any of those things. It's the reality of the world we live in. The real world we live in that still has the blue sky, the birds, the wild flowers and wild animals, the ocean.
But over the past several years, I have slowly backed away from getting out and exploring the beauty of the things I love. As you know, life takes over, and sometimes you have to "adult" and make responsible decisions. They sometimes require sacrificing doing the things you love.
You probably know that I am also a proud mom of an Australian Cattle Dog. I love this breed for so many reasons, but I think it's mostly because of their independent way of thinking. I, too, am a very independent thinker, so I really connect with the personality of a Cattle Dog.  And every dog owner knows that the heart-and-soul bond you have with a dog goes beyond explanation. That's the kind of connection I have with Truman, and that's the kind of connection Truman has with me.
So, you see, when I saw that picture, I became overwhelmed with emotion. I understood why that dog was standing up to look over the vastness and beauty of that canyon. That animal's soul feels a connection to that beauty. Who wouldn't? Maybe that dog couldn't see the pink and purple and tan and coral colors showing off as the sun was setting on the rocks. Maybe that dog was thinking, "Hey, I wonder what's over this cliff? How can I get down there to sniff around? Is that a snake I smell?" Whatever the reason, it's beautiful to see a dog enjoying nature as it is intended to be enjoyed, with pure joy and appreciation, imagination, and courage.
So now I'm inspired to stop "adulting" at least for a week, put Truman in the car with me, and take a road trip to see the Grand Canyon. It's a place I've never been, and a place I've always wanted to visit. And yes, I realize I'm being very romantic and very "Subaru commercial" about the whole notion. It takes 24 hours to drive from Madison to the Grand Canyon. That's three days for me. I'll have to find hotels along the way that will let dogs stay in the room. Truman whines in the car—a lot—and I can't stand that.  Also, what will we do once we get there? Can we recreate that exact picture, the one that inspired us to take the trip in the first place? What if we're both grumpy and tired and sorry we ever took a cross-country trip together? Will we gaze out over a vast greatness for an hour and then wish we were lounging on our own couch watching TV and surfing the Internet—those things I just said I don't really like to do?
I guess it's a good thing I own a Subaru and a Cattle Dog. Grand Canyon, here we come to appreciate you. Soon.