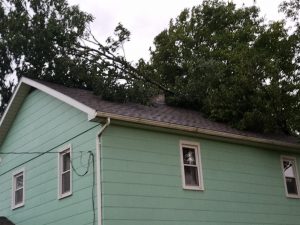 I think Mother Nature turned a water faucet on, left the room, and forgot that the water was still running. We've had enough rain and storms!  The early morning storms this past Monday were especially a doozy. Some parts of our listening area got five or more inches of rain. Some other areas "only" got one or two inches.
It was bad elsewhere, too. My mom's house in northern Illinois got hit by part of a huge tree in the front yard, as you can see in the picture. Luckily, there is no damage to the roof, but part of the soffit will need replacing. Even though this is a fairly minor repair, it will still cost me around $1,500 or more just to get the tree removed and replace the soffit.
If you're in the same boat after the rough weather this summer, I can certainly commiserate with you. Mother Nature, we've had enough!!
Rant over.