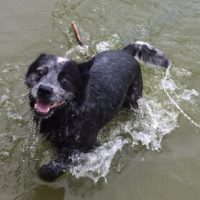 You've heard the news stories about how bad the blue green algae is this year and how sick it can make you and your pets if you get into water with those algae floating in it. That sort of news certainly gives me a healthy dose of fear and caution.
On the Fourth of July, I took Truman to a little-known off-leash park so he could enjoy running on trails on such a beautiful day. We were almost done with our walk and headed down a big hill back to the car when all of a sudden he took off in another direction, toward a pond with ducks in it and what I thought was blue green algae.  I panicked and screamed for him to stop—but as any dog owner knows screaming at your dog to stop doing something only heightens their excitement—so off he went into the pond after the ducks. I saw him lap up some of the water while he was swimming.
As you can imagine, I was hyperventilating and crying thinking he was going to die within 10 minutes of getting out of that pond. I ran for help to some people across the parking lot, telling them my dog had gone into a retaining pond. They thought he had drowned. I explained that he could swim, but the pond was filled with algae, and if they called for him, he might come to strangers. When we ran back to the pond he was gone. Then, a woman yelled from across the parking lot that he was over there looking for me.  You can imagine my relief. I thanked everyone and put in him the car to go back home.
Now what? I called an emergency vet clinic immediately. They told me they can't identify blue green algae and what I should do first is call the ASPCA Poison Control Hotline. Truman seemed just fine with absolutely no symptoms of being exposed to blue-green algae. They said that was a good sign, but just to be safe, I needed to make him vomit to get any possible algae out of his system before they became absorbed.  I've never had to do that to him before, and I felt horrible giving him peanut butter and hydrogen peroxide, but it worked fast. Nothing but digested food and some blades of grass he ate before he threw up. That was a good sign too. I thought we were out of the woods.
They said that unfortunately, we weren't. Blue-green algae can affect your system in two ways. One is immediate (which didn't happen), and the other occurs about 12 hours after ingestion, when it starts to destroy the liver. I could either watch him for the next 12 hours to see if the symptoms of severe lethargy, vomiting diarrhea, and confusion set in, or I could take him to the emergency vet and they could start him on some preventative measures.
Sigh. That is what I was going to do in the first place before they told me to call poison control. So you can guess what I did. I took Truman to the emergency vet. On a holiday. $$$.
They did blood work. Liver function and everything else blood-related was normal. Vitals normal. But just to be on the safe side, they gave him subcutaneous fluids to flush out anything bad, an anti nausea injection, and a pill to help protect his liver. We were there for two hours. They sent us home and told me to monitor his symptoms over the next 12 hours to look for severe lethargy, vomiting, diarrhea, confusion, etc. Ugh. I could have  done that without taking him to the emergency vet.
The next morning Truman could barely make it up the stairs. He was stumbling and walking sideways. He didn't even want to walk to the corner to go potty. So, obviously I thought the worst had happened. His organs were shutting down because of the blue-green algae.  I put him in the car and rushed him to my own vet. They took more blood. His liver function and everything else blood-related was normal. They kept him all day, and they pumped him full of subcutaneous fluids so that he looked like a camel. They wanted to make sure whatever was making him feel oogy was completely flushed out of his system. My vet suspected it was a combination of the pondwater he drank, the hydrogen peroxide I gave him to make him throw up, and the pill to help protect his liver, which can cause side effects. All of this cost more $$$.
When I picked him up after work he just wanted to go home and sleep. I took him out that night before bed. He seemed to be doing better, and he wanted to take a 30-minute walk. The next morning he was almost completely back to normal. The truth of the matter is that what he went swimming in and drank most likely wasn't blue green algae.
I am telling you this long story to save you the emotional and financial grief of having your beloved pet go into water with any type of algae. In my case, I didn't even know that pond was there, so I felt confident letting Truman off his leash. Had I known that pond was there, I never would have gone to that park in the first place.
Don't go through what I went through. If you are around any body of water this summer, and there is any type of gross scummy stuff floating in it, keep your pet on a leash. Do not let your pet go in the water. It's not worth wondering if that scum is blue-green algae or not. Check beach reports. Check dog-park reports if those parks have lakes or streams for your pets to swim in.
Truman is like my child, so of course I would spend any amount of money to keep him healthy and well and safe. But this all could have been avoided if he'd stayed on a leash. Lesson learned. I hope I have spared you the same grief and worry. Stay safe this summer.
(The picture with this post isn't from the lake that made Truman sick. It was taken on a much happier day.)