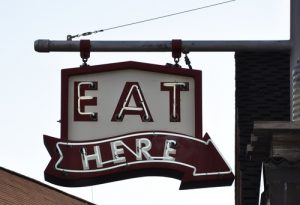 Here's pretty much all I know about the restaurant business: it's harder than it looks, the hours are long, and finding good help is tough. Still, here's what I'd say to some owners who are making changes:
New Orleans Take-Out: I showed up for your last day on Fordem Avenue, but the lines were out the door. I've loved you, your jambalaya, and your cornbread for decades. Thank you, John Roussos, for bringing this idea to Madison. Ken Kopp IV, please keep your Monroe Street operation going. Nobody in town makes food like you do. I think you need to advertise more.
Buck's Pizza: I've dropped by your University Avenue shop a couple times a month for years. I'm guessing the recent road construction was part of why you closed, but I hope you find another spot on the west side. Your thin-crust pizza with green peppers and black olives is excellent. Your staff is friendly. I think you need to advertise more.