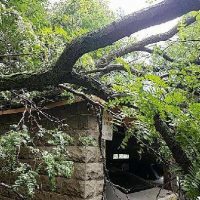 The tree that fell on my late Mom's house earlier this month, which I previously blogged about, seems to have started a domino effect. The big downpours from last Friday caused part of a tree to fall on the garage of a rental property near downtown Madison that my husband manages. (It's pictured here.) Luckily, no people or cars were hurt, but my husband spent a good seven hours on Saturday sawing it up and dragging it to the curb.
The house we used to live in on Felland Road, which we sold to good friends of ours back in 2003, also had a tree come down. Part of that tree busted through the roof and was resting comfortably in the living room as of last Saturday. Nobody was home at the time, so at least no one was hurt.
Mother Nature, we get it. You're in charge. Just please give us all a break from the storms!