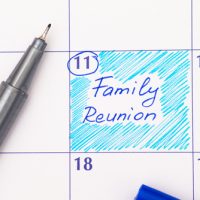 It's family reunion season, and mine was earlier this month. My family is from outside Dodgeville, in a place called Linden. We have a bunch of family farms in the area, and this year we had the reunion at my cousin Mike's house. He and his family live in the house that belonged to my great-uncle Gordon and great-aunt Grace. I spent a lot of time at this farm growing up, and I was beyond thrilled to bring my husband and boys to this magical place. Mike gave us all a tractor ride through the different properties, and we went by the one-room schoolhouse that still stands in the same place it did when my grandpa, Everett, and his triplet brother and sister, Emmett and Edna, attended almost a century ago.
The best part about a family reunion is hearing the stories. My grandpa and his triplet siblings were the first surviving triplets in the state of Wisconsin. Apparently they were given little baby rings by the governor at the time, although no one is sure of their whereabouts now. The wood-burning stove that the triplets were kept warm on is still in the basement of Grace's house. I found out that way back in 1915, my great-uncle Emmett was so little when he was born that to help him survive he needed the nature-made liquid gold that is breast milk. So my great-grandma gave him every ounce she had, and the other two babies got cow's milk, straight from the cow so it still had some of those great nutrients in it. Great-Grandma did it right because all three of her triplets had long, beautiful lives. My great-aunt Edna turned 102 the day of the family reunion.
It's so important to ask our grandparents and aunts and uncles questions, and to keep telling their stories, because otherwise they're lost. Facebook wasn't around to chronicle your great-grandpa's dinner choice from his favorite restaurant. So tell your kids the stories, even if they don't ask. Take out the old photo albums and tell everyone's names and where they lived. Otherwise, lots of that stuff is sadly lost.
To watch my boys, like I'm sure my mom watched me, enjoying every second of the simple, magnificent life on the farm, was pretty cool. The only downside was that we're probably going to get a cat now. Everett and Roman loved the farm cats. Dang it!