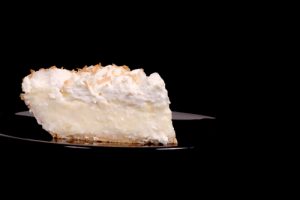 Ingredients:
14 oz. package of coconut
4 cups milk
4 egg yolks
2 whole eggs
2 oz. butter (half stick)
1 cup sugar
1 tablespoon vanilla
1/2 cup cornstarch
Pinch of salt
Preparation:
In a large bowl, combine 1/2 cup sugar, 1/2 cup cornstarch, 4 egg yolks, 2 whole eggs, and a pinch of salt. Whisk until smooth.
Heat 4 cups of milk and 1/2 cup sugar at high heat.
Place both mixtures in large saucepan, stir constantly over medium heat until it thickens. Add butter, vanilla, and 3 cups of coconut. Stir together and remove from heat.
Toast remaining coconut on cookie sheet at 325 degrees. Turn once.
Pour mixture into pie shell, sprinkle with toasted coconut. Refrigerate overnight.