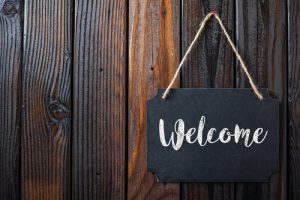 Providence. It's a word that doesn't really get used that often anymore. Maybe people don't believe in it. Maybe we're all too busy to even recognize it when we see it. But today, providence hit me like a gentle brick wall.
I had just set out on the sidewalk from my house to take Truman for a walk. He was stalling right away, smelling and sniffing the neighbor's bush and looking for some grass to eat, when I noticed a car pull up and park at the curb in front of my house. The hazard lights were on and the car had a California license plate, so I thought maybe it was someone in town for the Crossfit Games who was lost, pulling over to GPS where he needed to go. But the car stayed there for a long time, and I began to feel strange that someone was parked in front of my house for so long. So I decided to go ask the person in the car if he needed any help. As I was approaching, I noticed that he was holding his phone and taking pictures and/or video of my home. Naturally my radar went way up, but I bent down to his passenger-side window and asked if I could help him with anything.
He explained that he lived in my house when he was very young. He was back in town after having been away for a long time, and thought he would just drive by to see what it looked like and remember things. He then told me that his mother had died, and he was back for her funeral. He could barely speak the words, and tears were just streaming down his face. He told me when he lived here, and that he knew the people who lived here after his family moved out, but he'd lost touch with everyone since.
To not believe his story would have been a grave insensitivity on my part. No man ever wants to shed tears in front of a complete stranger. So I asked him if he would like to come and see inside. His honest face and tears of appreciation were all I needed to know that it was OK for him to come in. I was happy to show him around.
He pulled in the driveway. He told me his name was Damian. I told him mine. He asked if it was OK if he took video, and I said "Sure." The moment he walked through the door into the kitchen, he became overwhelmed with emotion and just stood there choking back tears. I understood. He loved remembering the beautiful sandstone fireplace. In the corner across from it is where his mother had her 1960s stereo console where he would sit on the floor next to it and listen to Beatles records. He told me his room was the one on the right at the top of the stairs. I asked him if that would be emotional for him to see and he said, "Oh, yes, I think it will be." So I took him to look at the rest of the house before looking at his room. He remembered that his dad had converted half the basement into a family room, so I took him down there. He couldn't remember if the barn boards were there as walls back then, but he thought they were pretty cool. He told me his grandma used to stay in the guest bedroom on the first floor, which I use as a guest bedroom now.
Then we headed upstairs. To see his bedroom and his parents' old bedroom (which is now my bedroom) wasn't as emotional for him as we both thought it might be. He seemed really content to be back at a place where he had happy childhood memories. I told him how much I love the house, how charming and quaint and lovely I think it is, and how it feels like a hug every day when I come home. He smiled. Then we went outside to the backyard and the tour was over.
I asked Damian where he lives in California. He told me he lives right in the center of Los Angeles, Hollywood to be exact. He said he is a musician always trying to find a gig and doing odd jobs in between. His dad now lives in Monroe and he has cousins spread out all over Wisconsin that he is going to visit while he's here. He thanked me so graciously for letting him come in and recapture memories. I told him it was my pleasure, and that I was sorry about his mother passing away. We gave each other a hug and he drove away.
So, where does providence fit into this story? Damian drove up to my house at a time when I don't normally take  Truman for a walk, at a place where he normally doesn't loiter, on a day where I was feeling absolutely horrible about humanity and questioning whether I am making any kind of positive contribution to it.
Damian felt drawn and compelled to drive to his childhood home to capture just the outside as a memory. I don't think he ever dreamed he would be able to come in and be given an abundance of memories from his childhood that might possibly help him heal from the pain of losing his mom.
I was meant to be a vessel for Damian. But more so, I believe Damian was meant to be a vessel for me. I could have disbelieved his story and waved him away. I could have just ignored him in his car in front of my house and kept walking. I could never have seen him at all. Instead, I felt led to walk up to his car and ask if he needed help.
I don't know if I will ever see or hear from Damian again. It doesn't matter. What matters is maybe he was able to take away some healing memories on his visit back to Wisconsin, where he had to say goodbye to his mother. What matters is that Damian brought  some light and hope to my heart and made me stop thinking about myself, and to start thinking about being more compassionate to others. Damian was my gentle brick wall. Providence.
There's a song by by Miranda Lambert that is the perfect healing song for us both. To hear it, click here.