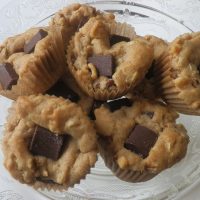 What the heck is a doot, you ask? Nuts, dark chocolate chunks, cherries, and coconut all snugged up in a little compostable wrapper. No gluten and no preservatives! It's my own creation and it's not a cookie, scone, tart, brownie, bar, doughnut, bicsuit, cracker, pastry, or cake, so I made up my own name. It started out as dootie (as opposed to cookie) but somehow that seemed too juvenile, even for me, so it got shortened to doot. (Like boot.)
If you would like to buy some, there is a darling little shop called Crocus at 137 East Main in Cambridge. The shop carries art, upcycled goods, painted furniture, small treasures that appeal to everyone, and now my doots. All money from the sale of doots will go to CART (Cambridge Area Resource Team), a local organization that helps those in a crisis.
Call Carrie at 920-728-3105 if you need directions or have any questions. The store is open Friday 10 to 5, Saturday 10 to 4, and Sunday 12 to 4.