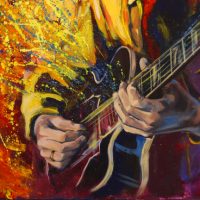 His name is Sonny Landreth, and I had the pleasure of seeing him live again last week during Madison's Central Park Sessions. He is an amazing slide guitar player. He's from Louisiana, birthplace of Zydeco music, and he's picked up the nickname "the King of Slydeco." Guitar legend Eric Clapton has said that Sonny Landreth is one of the most advanced guitarists in the world and one of the most under-appreciated.
I highly encourage you to catch a Sonny Landreth show next time he comes close by. Over the years I've seen him in Monroe, at the Stoughton Opera House, at La Fete de Marquette, at the Orton Park Festival, and just last week at Madison's Central Park. The only show that required a ticket was in Stoughton, so there's a good chance you'll get to see this guitar phenomenon for free!
Here's his website so you can track him down!