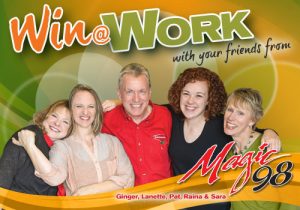 You could win $1000 at work just for listening to Magic 98 with our Secret Listener Salute!
Listen for your name on the air weekdays at 7AM, noon, and 4PM. When we announce your name, call back at 608-321-0098 within 15 minutes and you win $98 instantly—and you could win $1000!
So far, Mary S. of Cross Plains, Jane K. of Middleton, Rob B. of Verona, and Sue K. of Waunakee have each won $98 for listening to Magic 98!
If you'd like to be next, register here. You can boost your chances of winning by referring a friend when you register online. If your friend registers through your referral and wins, you'll win $98 too!