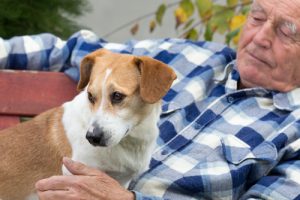 My mother is an exceptionally thoughtful person. She's one of those who will remember you mentioning something you saw in a store window and admired, or wanted to buy. She keeps those little conversation pieces in the back of her brain. Then when it comes time for a birthday or Christmas or some other celebratory occasion, my mother will be the one to give the most thoughtful gift.
When I adopted Truman over seven years ago, my mother remembered me saying I would like to use Truman's good nature to visit patients in nursing homes.
I have yet to take Truman in for his Canine Good Citizen test in order for us to get certified to do this.
So, last Christmas my mother handed me a gift that was very obviously a book.
When I opened it, I was surprised by the title: A Dog Walks Into A Nursing Home by Sue Halpern. It's a true story of a woman and her dog going through the Canine Good Citizen test and finally being able to visit the county nursing home together. The stories of the people she met there are fascinating.
I adore seniors. They often seem to be the forgotten, ignored, and unimportant members of our society. What a shame that is. If you take the time to sit with them and let them share stories, you can learn so many things about yourself. Talking with a senior citizen is better than any book.
But I highly recommend reading this book. My mom is a senior. I appreciate all of her stories. And I will forever appreciate her thoughtfulness in gifting me this book. It was her way of telling me to get it done. I am to work with Truman to pass his Canine Good Citizen test and open a door for myself, my dog, and the people we visit. Thanks, Mom.